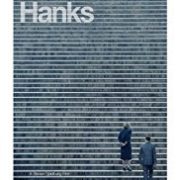 Tom Hanks is the man. Streep does her usual good job, but basically she's playing a nicer version of her Miranda Priestly role from The Devil Wears Prada. Hanks is really the standout actor in this, and it's not easy to upstage Streep! He's settling nicely into his older roles, and in The Post he is so good at being this smart, genial, likeable, dedicated newsman that I lost myself in his part, instead of being constantly impressed with his work. If this sounds like a contradiction, remember that really good acting is about the story, not the actor. [pullquote position="right"]When someone subsumes their persona into the role given, you forget about star power and just enjoy the work.[/pullquote] Many kudos to Hanks. He's become really reliable and versatile over the years.
Bob Odenkirk also deserves a shout out — he had some of the best, most gripping scenes, and was a great choice in this altogether stellar cast.
One question I do have: did every man in this era have a growly voice like the actors affected here?
The film documents a brave, historic, and positive moment in time, showcasing the better side of human nature. It will make you feel happy to be a small part of it, even as just a passive movie viewer. Politics sometimes isn't completely depressing! Good job, Spielberg; once again you haven't let us down. The wonderful score by John Williams is resonant and uplifting as well. I don't usually enjoy historical dramas, but this is easily an A experience.
Movie grade: A
Co-Creator of RunPee, Chief of Operations, Content Director, and Managing Editor. RunPee Jilly likes galaxy-spanning sci fi, superhero sagas, fantasy films, YA dystopians, action thrillers, chick flicks, and zany comedies, in that order…and possesses an inspiringly small bladder. In fact, that little bladder sparked the creation of RunPee. (Good thing she's learned to hold it.)