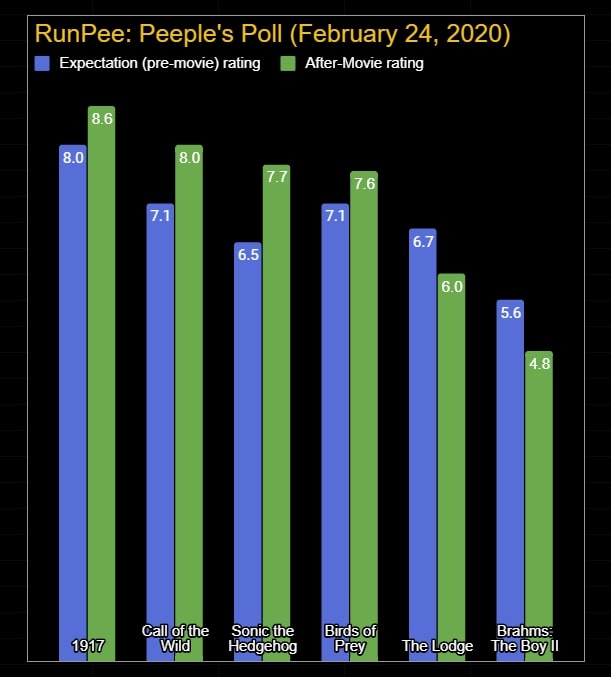 Another not great week for new movies. Call of the Wild did pretty well. (I have it an A in my review, partly for sentimental reasons.) The Peeple gave Call of the Wild a respectable 8.0 After-movie rating, up 0.9 points from the 7.1 Expectation-rating. That's not going to win any awards, but it's a solid showing.
Besides that, we had two forgettable movies. Or at least according to the Peeple's Poll results, people will wish they could forget them. Both The Lodge and Brahms: The Boy II performed under expectations. RunPee Sis was looking forward to both movies, but her movie review of The Lodge and Brahms: The Boy II were both D+.
-----Content continues below------
The World's Most Indispensable Movie App!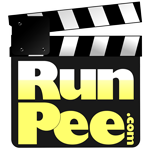 The RunPee app tells you the best times to
run & pee during a movie
so you don't miss the best scenes.


Read more about the RunPee app
.
Sonic the Hedgehog remains a pleasant surprise. (Read the review here: B+.) The After-movie rating held steady at 7.7, but its Expectation rating dropped by 0.1 points (down to 6.5). That means its improvement over expectation only improved — up 1.2 points. Compared to most movies, that's a much larger gap of improvement and will likely remain as one of 2020's surprise hits of the year.
Of course, 1917 remains the highest-rated movie in the Peeple's Poll so far this year and is still one of the most viewed movies in the RunPee app. There's no doubt that it will be among the highest rated movies for the entire year. Ford vs Ferrari was the 2nd highest-rated movie of 2019, with a 8.7 After-movie rating. (Avengers: Endgame achieved a staggering 9.2 After-movie rating that may never be beaten by any movie.)
Who rated Star Wars: The Rise of Skywalker higher, men or women?
Don't miss your favorite movie moments because you have to pee or need a snack.  Use the RunPee app (Android or iPhone ) whenever you go to the movies. (We've been doing this over 10 years now.)  We always have Peetimes for the latest wide release films, including OnWard,  1917, Sonic the Hedgehog, etc.  You can also keep up with the latest movie news and reviews on our blog or by following us on Twitter @RunPee, and liking us on Facebook.
Creator and developer of the RunPee app. When something doesn't work right in the app it's pretty much his fault. 🙂
Aspiring author. Would like to finish his "Zombie Revelations" trilogy if he could break away for working on RunPee and the cottage he's building for RunPee Mom.