Read Time:
1 Minute, 3 Second
There is nothing extra during, or after, the end credits of Cyrano.
The credits run for approximately 7 minutes.
Get this information, and much more, for free in the RunPee app.
Try it for free (Learn more.)
[/wbcr_text_
snippet]
Read the RunPee movie review for Cyrano by Dan Gardner. Movie review grade: B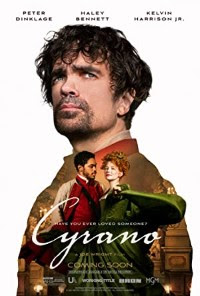 We have 4 Peetimes for Cyrano. Learn more.
About The Peetimes
We have 4 Peetimes spread nicely throughout the movie. Vera and I agree that the first two Peetimes are best.
Our focus was to avoid missing any of the fantastic acting by Peter Dinklage, but at a cost of missing some of the singing scenes.
| | |
| --- | --- |
| Rated: | PG-13) Suggestive Material | Some Strong Violence | Brief Language | Thematic Material |
| Genres: | Drama,Musical,Romance |
| USA release date: | 2022-02-25 |
| Movie length: | 122 minutes |
| Starring: | Peter Dinklage, Haley Bennett, Kelvin Harrison Jr. |
| Director: | Joe Wright |
| Writer(s): | Edmond Rostand, Erica Schmidt |
| Language: | English |
| Country: | United Kingdom, United States, Canada |
Plot
A man ahead of his time, Cyrano de Bergerac dazzles whether with ferocious wordplay at a verbal joust or with brilliant swordplay in a duel. But, convinced that his appearance renders him unworthy of the love of a devoted friend, the luminous Roxanne, Cyrano has yet to declare his feelings for her and Roxanne has fallen in love, at first sight, with Christian.
Don't miss your favorite movie moments because you have to pee or need a snack. Use the RunPee app (Androidor iPhone) when you go to the movies. We have Peetimes for all wide release films every week, including Guardians of the Galaxy: Volume III, Super Mario Bros. Movie, and coming soon Fast X, and The Little Mermaid 2023. We have literally thousands of Peetimes—from classic movies through today's blockbusters. You can also keep up with movie news and reviews on our blog, or by following us on Twitter @RunPee. If there's a new film out there, we've got your bladder covered.
Creator and developer of the RunPee app. When something doesn't work right in the app it's pretty much his fault. 🙂
Aspiring author. Would like to finish his "Zombie Revelations" trilogy if he could break away for working on RunPee and the cottage he's building for RunPee Mom.