Read Time:
1 Minute, 1 Second
There is nothing extra during, or after, the end credits of West Side Story.
The credits run for approximately 9 minutes.
Get this information, and much more, for free in the RunPee app.
Try it for free (Learn more.)
[/wbcr_text_
snippet]
Read the RunPee movie review for West Side Story by Jill Florio. Movie review grade: B-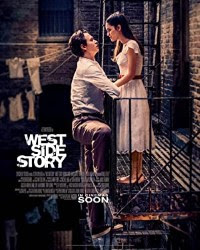 We have 4 Peetimes for West Side Story. Learn more.
About The Peetimes
Peetimes were challenging. I'm going to assume you're here for the classic song & dance numbers — and there's a song every few minutes.
I do have 3 good Peetimes for you where you don't miss much, nicely spaced out, plus a 4th emergency Peetime after the 2nd hour.
| | |
| --- | --- |
| Rated: | PG-13) Some Strong Violence | Brief Smoking | Strong Language | Suggestive Material | Thematic Content |
| Genres: | Crime,Drama,Musical,Remake,Young Adult |
| USA release date: | 2021-12-10 |
| Movie length: | 156 minutes |
| Starring: | Ansel Elgort, Rachel Zegler, Ariana DeBose |
| Director: | Steven Spielberg |
| Writer(s): | Tony Kushner, Arthur Laurents |
| Language: | English, Spanish |
| Country: | United States |
Plot
An adaptation of the 1957 musical, West Side Story explores forbidden love and the rivalry between the Jets and the Sharks, two teenage street gangs of different ethnic backgrounds.
[category ] [status draft] [tags movie review,Crime,Drama,Musical,
Remake,Young Adult][excerpt][/excerpt]
Don't miss your favorite movie moments because you have to pee or need a snack. Use the RunPee app (Androidor iPhone) when you go to the movies. We have Peetimes for all wide release films every week, including A Haunting in Venice, Expend4bles, Gran Turismo, Oppenhiemer, Barbie, and coming soon The Creator and Killers of the Flower Moon, and many others. We have literally thousands of Peetimes—from classic movies through today's blockbusters. You can also keep up with movie news and reviews on our blog, or by following us on Twitter @RunPee. If there's a new film out there, we've got your bladder covered.
Creator and developer of the RunPee app. When something doesn't work right in the app it's pretty much his fault. 🙂
Aspiring author. Would like to finish his "Zombie Revelations" trilogy if he could break away for working on RunPee and the cottage he's building for RunPee Mom.