Read Time:
1 Minute, 7 Second
There is nothing extra during, or after, the end credits of Moonfall.
The credits run for approximately 8 minutes.
Get this information, and much more, for free in the RunPee app.
Try it for free (Learn more.)
[/wbcr_text_
snippet]
Read the RunPee movie review for Moonfall by Christene Johnson. Movie review grade: C+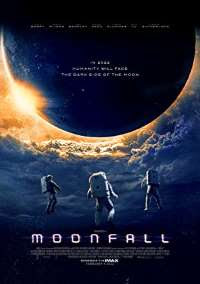 We have 2 Peetimes for Moonfall. Learn more.
About The Peetimes
Both Peetimes will work, one was easy to sum up and the second was mostly action-based.
| | |
| --- | --- |
| Rated: | PG-13) Strong Language | Some Drug Use | Disaster Action | Violence |
| Genres: | Action,Adventure,Fantasy |
| USA release date: | 2022-02-04 |
| Movie length: | 120 minutes |
| Starring: | Halle Berry, Patrick Wilson, John Bradley |
| Director: | Roland Emmerich |
| Writer(s): | Spenser Cohen, Roland Emmerich, Harald Kloser |
| Language: | English |
| Country: | United Kingdom, China, United States |
Plot
In Moonfall, a mysterious force knocks the Moon from its orbit around Earth and sends it hurtling on a collision course with life as we know it. With mere weeks before impact and the world on the brink of annihilation, NASA executive and former astronaut Jo Fowler is convinced she has the key to saving us all – but only one astronaut from her past, Brian Harper and a conspiracy theorist K.C. Houseman believe her. These unlikely heroes will mount an impossible last-ditch mission into space, leaving behind everyone they love, only to find that they might have prepared for the wrong mission.
Don't miss your favorite movie moments because you have to pee or need a snack. Use the RunPee app (Androidor iPhone) when you go to the movies. We have Peetimes for all wide release films every week, including Godzilla: Minus One, Napoleon, The Hunger Games: The Ballad of Songbirds and Snakes and coming soon Aquaman and the Lost Kingdom and many others. We have literally thousands of Peetimes—from classic movies through today's blockbusters. You can also keep up with movie news and reviews on our blog, or by following us on Twitter @RunPee. If there's a new film out there, we've got your bladder covered.
Creator and developer of the RunPee app. When something doesn't work right in the app it's pretty much his fault. 🙂
Aspiring author. Would like to finish his "Zombie Revelations" trilogy if he could break away for working on RunPee and the cottage he's building for RunPee Mom.