Read Time:
1 Minute, 45 Second
There are extras during the end credits of Marry Me.
During the first 2 minutes, they show extra scenes. Then show clips of how couples met.
The credits run for approximately 6 minutes.
Get this information, and much more, for free in the RunPee app.
Try it for free (Learn more.)
[/wbcr_text_
snippet]
Read the RunPee movie review for Marry Me by Christene Johnson. Movie review grade: A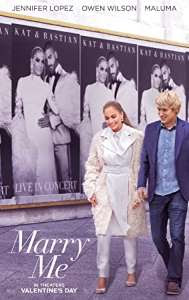 We have 2 Peetimes for Marry Me. Learn more.
About The Peetimes
There are a lot of moments that would be easy enough to run out for a quick break. There are many song/singing scenes, however, I felt it was best to let you know about those and let you decide which song you could skip.
| | |
| --- | --- |
| Rated: | PG-13) Suggestive Material|Some Language |
| Genres: | Comedy,Music,Romance |
| USA release date: | 2022-02-11 |
| Movie length: | 112 minutes |
| Starring: | John Bradley, Owen Wilson, Jennifer Lopez |
| Director: | Kat Coiro |
| Writer(s): | Harper Dill, Bobby Crosby, John Rogers |
| Language: | English |
| Country: | United States |
Plot
Kat Valdez is half of the sexiest celebrity power couple on Earth with hot new music supernova Bastian. As Kat and Bastian's inescapable hit single, "Marry Me," climbs the charts, they are about to be wed before an audience of their fans in a ceremony that will stream across multiple platforms. Divorced high-school math teacher Charlie Gilbert has been dragged to the concert by his daughter Lou and his best friend Parker Debbs. When Kat learns, seconds before the ceremony, that Bastian has cheated on her with her assistant, her life turns left as she has a meltdown on stage, questioning love, truth, and loyalty. As her gossamer world falls away, she locks eyes with a stranger-a face in the crowd. If what you know lets you down, then perhaps what you don't know is the answer, and so, in a moment of inspired insanity, Kat chooses to marry Charlie. What begins as an impulsive reaction evolves into an unexpected romance. But as forces conspire to separate them, the universal question arises: Can two people from such different worlds bridge the gulf between them and build a place where they both belong?
Don't miss your favorite movie moments because you have to pee or need a snack. Use the RunPee app (Androidor iPhone) when you go to the movies. We have Peetimes for all wide release films every week, including The Creator, A Haunting in Venice, Expend4bles, Gran Turismo, Oppenhiemer, Barbie, and coming soon Killers of the Flower Moon, and many others. We have literally thousands of Peetimes—from classic movies through today's blockbusters. You can also keep up with movie news and reviews on our blog, or by following us on Twitter @RunPee. If there's a new film out there, we've got your bladder covered.
Creator and developer of the RunPee app. When something doesn't work right in the app it's pretty much his fault. 🙂
Aspiring author. Would like to finish his "Zombie Revelations" trilogy if he could break away for working on RunPee and the cottage he's building for RunPee Mom.