Read Time:
1 Minute, 47 Second
There are extras during the end credits of Don't Look Up.
There are 2 extra scenes.
The credits begin with really cool visuals. About 1 minute into the credits there is a funny extra scene. After that, the credits go back to some visuals for a minute or so.
Following that are standard rolling credits for about 6 minutes.
After the end of the credits, there is another short extra scene.
The credits run for approximately 9 minutes.
Get this information, and much more, for free in the RunPee app.
Try it for free (Learn more.)
[/wbcr_text_
snippet]
Read the RunPee movie review for Don't Look Up by Dan Gardner. Movie review grade: A+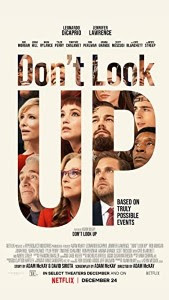 We have 3 Peetimes for Don't Look Up. Learn more.
About The Peetimes
I have 3 good Peetimes. They are all pretty good, but I think the 1st one is best unless you're an Ariana Grande fan.
| | |
| --- | --- |
| Rated: | R) Some Sexual Content | Drug Content | Language Throughout | Graphic Nudity |
| Genres: | Comedy,Drama,Sci-Fi |
| USA release date: | 2021-12-10 |
| Movie length: | 137 minutes |
| Starring: | Timothée Chalamet, Leonardo DiCaprio, Jennifer Lawrence |
| Director: | Adam McKay |
| Writer(s): | Adam McKay, David Sirota |
| Language: | English |
| Country: | United States |
Plot
Kate Dibiasky (Jennifer Lawrence), an astronomy grad student, and her professor Dr. Randall Mindy (Leonardo DiCaprio) make an astounding discovery of a comet orbiting within the solar system. The problem – it's on a direct collision course with Earth. The other problem? No one really seems to care. Turns out warning mankind about a planet-killer the size of Mount Everest is an inconvenient fact to navigate. With the help of Dr. Oglethorpe (Rob Morgan), Kate and Randall embark on a media tour that takes them from the office of an indifferent President Orlean (Meryl Streep) and her sycophantic son and Chief of Staff, Jason (Jonah Hill), to the airwaves of The Daily Rip, an upbeat morning show hosted by Brie (Cate Blanchett) and Jack (Tyler Perry). With only six months until the comet makes impact, managing the 24-hour news cycle and gaining the attention of the social media-obsessed public before it's too late proves shockingly comical – what will it take to get the world to just look up?
Don't miss your favorite movie moments because you have to pee or need a snack. Use the RunPee app (Androidor iPhone) when you go to the movies. We have Peetimes for all wide release films every week, including The Creator, A Haunting in Venice, Expend4bles, Gran Turismo, Oppenhiemer, Barbie, and coming soon Killers of the Flower Moon, and many others. We have literally thousands of Peetimes—from classic movies through today's blockbusters. You can also keep up with movie news and reviews on our blog, or by following us on Twitter @RunPee. If there's a new film out there, we've got your bladder covered.
Creator and developer of the RunPee app. When something doesn't work right in the app it's pretty much his fault. 🙂
Aspiring author. Would like to finish his "Zombie Revelations" trilogy if he could break away for working on RunPee and the cottage he's building for RunPee Mom.