Read Time:
1 Minute, 28 Second
There are extras during the end credits of American Underdog.
There is an extra, with the real characters, at the very end of the credits.
The credits run for approximately 5 minutes.
Get this information, and much more, for free in the RunPee app.
Try it for free (Learn more.)
[/wbcr_text_
snippet]
Read the RunPee movie review for American Underdog by Dan Gardner. Movie review grade: B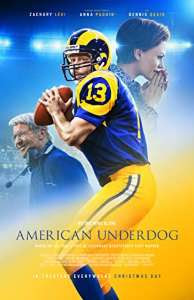 We have 3 Peetimes for American Underdog. Learn more.
About The Peetimes
I would recommend the 2nd Peetime. You'll miss a little football action, but not too much. Most of it comes later in the movie.
The 3rd Peetime is for emergencies only.
| | |
| --- | --- |
| Rated: | PG) Some Language | Thematic Elements |
| Genres: | Biography,Drama,Sport,Religious,True Story |
| USA release date: | 2021-12-25 |
| Movie length: | 112 minutes |
| Starring: | Zachary Levi, Anna Paquin, Dennis Quaid |
| Director: | Andrew Erwin, Jon Erwin |
| Writer(s): | David Aaron Cohen, Jon Erwin, Jon Gunn |
| Language: | English |
| Country: | United States |
Plot
American Underdog tells the inspirational true story of Kurt Warner (Zachary Levi), who went from a stockboy at a grocery store to a two-time NFL MVP, Super Bowl champion, and Hall of Fame quarterback. The film centers on Warner's unique story and years of challenges and setbacks that could have derailed his aspirations to become an NFL player – but just when his dreams seemed all but out of reach, it is only with the support of his wife, Brenda (Anna Paquin) and the encouragement of his family, coaches, and teammates that Warner perseveres and finds the strength to show the world the champion that he already is.
[/su_spoiler] [category ] [status draft] [tags movie review,Biography,Drama,Sport,
Religious,True Story][excerpt]Yes, there are extra scenes during, or after, the end credits of American Underdog. View details and movie information…[/excerpt]
Don't miss your favorite movie moments because you have to pee or need a snack. Use the RunPee app (Androidor iPhone) when you go to the movies. We have Peetimes for all wide release films every week, including A Haunting in Venice, Expend4bles, Gran Turismo, Oppenhiemer, Barbie, and coming soon The Creator and Killers of the Flower Moon, and many others. We have literally thousands of Peetimes—from classic movies through today's blockbusters. You can also keep up with movie news and reviews on our blog, or by following us on Twitter @RunPee. If there's a new film out there, we've got your bladder covered.
Creator and developer of the RunPee app. When something doesn't work right in the app it's pretty much his fault. 🙂
Aspiring author. Would like to finish his "Zombie Revelations" trilogy if he could break away for working on RunPee and the cottage he's building for RunPee Mom.