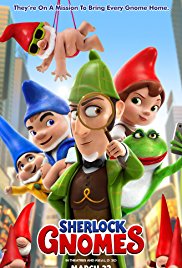 Let's start off by saying this — the trailers I saw made this movie look like it was going to be hilarious. I was bit by the deceiving trailer bug again. Yeah, there were funny parts, but not as many as I was expecting.
I paid attention to the adults and the children in the theater, and there wasn't the roaring laughter and excitement that I was expecting either. These movies are usually really good about throwing in stuff that just tickle our little ones, and then they also throw in the stuff that us adults get. Sherlock Gnomes only had a few.
The story itself was cute. I loved the way it looked, and really enjoyed the soundtrack. I'm a huge fan of Elton John and his music was really prominent in it. Other than that, I feel like it was an okay movie.
Grade: B-