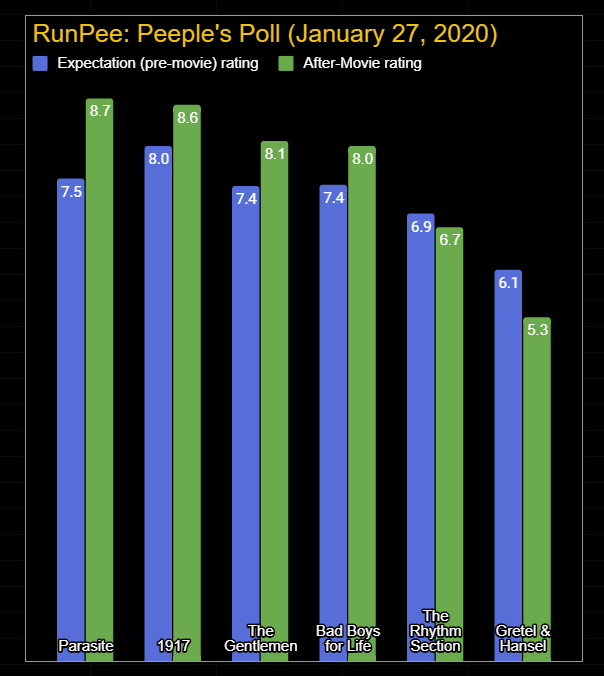 It wasn't a good week for new movies. The two movies that opened this week — The Rhythm Section, and Gretel & Hansel — both failed to meet their low expectations. (Ouch!)
But in good news: we finally added the movie Parasite to the database this week. It had been in select theaters for over a month, but we were unable to do Peetimes because it's subtitled — trying to take Peetime notes and read subtitles at the same time is a real challenge. However, our efforts paid off because Parasite is currently the highest rated movie in the database, and is beating expectations by a whopping 1.3 points. (That's a huge increase over the pre-expectations votes.)
-----Content continues below------
The World's Most Indispensable Movie App!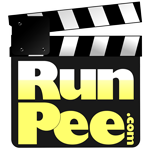 The RunPee app tells you the best times to
run & pee during a movie
so you don't miss the best scenes.


Read more about the RunPee app
.
There's no change in 1917. It is still performing well and will likely be one of the top 10 movies of 2020. (Although it's technically considered a 2019 film.)
Creator and developer of the RunPee app. When something doesn't work right in the app it's pretty much his fault. 🙂
Aspiring author. Would like to finish his "Zombie Revelations" trilogy if he could break away for working on RunPee and the cottage he's building for RunPee Mom.