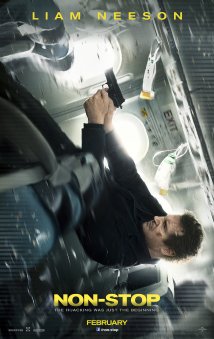 Grade: C+
Non-Stop was more enjoyable than I thought it would be, however, I wasn't expecting much.Liam Neeson, as always, is a fantastic choice for the flawed hero character. Even in his 60s he's still great at close combat action scenes. He's only getting better at action/fighting due to the number of movies he's made recently playing that role.
The story was pretty good. It keeps you guessing and trying to solve the mystery. When it was all over I felt that the explanation was a little weak but good enough if you don't think about it too much.
Don't miss your favorite movie moments because you have to pee or need a snack.  Use the RunPee app (Android or iPhone ) whenever you go to the movies. (We've been doing this over 10 years now.)  We always have Peetimes for the latest wide release films, including OnWard,  1917, Sonic the Hedgehog, etc.  You can also keep up with the latest movie news and reviews on our blog or by following us on Twitter @RunPee, and liking us on Facebook.
Creator and developer of the RunPee app. When something doesn't work right in the app it's pretty much his fault. 🙂
Aspiring author. Would like to finish his "Zombie Revelations" trilogy if he could break away for working on RunPee and the cottage he's building for RunPee Mom.