There is nothing extra during, or after, the end credits of House of Gucci.
The credits run for approximately 6 minutes.
Get this information, and much more, for free in the RunPee app.
Try it for free (Learn more.)
[/wbcr_text_
snippet]
Read the RunPee movie review for House of Gucci by Christene Johnson. Movie review grade: A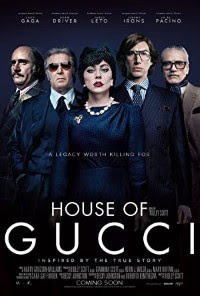 We have 3 Peetimes for House of Gucci. Learn more.
About The Peetimes
This is a really long movie. I found 3 Peetimes for you but the last one I only stuck in for emergencies.
| | |
| --- | --- |
| Rated: | R) Violence | Brief Nudity | Some Sexual Content | Language |
| Genres: | Crime,Drama,Thriller |
| USA release date: | 2021-11-24 |
| Movie length: | 157 minutes |
| Starring: | Salma Hayek, Jared Leto, Adam Driver |
| Director: | Ridley Scott |
| Writer(s): | Becky Johnston, Roberto Bentivegna, Sara Gay Forden |
| Language: | English |
| Country: | Canada, United States |
Plot
House of Gucci is inspired by the family empire behind the Italian fashion house of Gucci. When Patrizia Reggiani (Lady Gaga), an outsider from humble beginnings, marries into the Gucci family, her unbridled ambition begins to unravel the family legacy and triggers a reckless spiral of betrayal, decadence, revenge, and ultimately…murder.
Don't miss your favorite movie moments because you have to pee or need a snack. Use the RunPee app (Androidor iPhone) when you go to the movies. We have Peetimes for all wide release films every week, including Godzilla: Minus One, Napoleon, The Hunger Games: The Ballad of Songbirds and Snakes and coming soon Aquaman and the Lost Kingdom and many others. We have literally thousands of Peetimes—from classic movies through today's blockbusters. You can also keep up with movie news and reviews on our blog, or by following us on Twitter @RunPee. If there's a new film out there, we've got your bladder covered.
Creator and developer of the RunPee app. When something doesn't work right in the app it's pretty much his fault. 🙂
Aspiring author. Would like to finish his "Zombie Revelations" trilogy if he could break away for working on RunPee and the cottage he's building for RunPee Mom.