Read Time:
1 Minute, 10 Second
There are extras during the end credits of Dog.
At the very end of the credits is an on-screen message: in memory of LuLu.
LuLu is not a true story but is based on Channing Tatum's relationship with a dog he rescued in 2008 named LuLu. You can read more in the movie review.
The credits run for approximately 5 minutes.
Get this information, and much more, for free in the RunPee app.
Try it for free (Learn more.)
[/wbcr_text_
snippet]
Read the RunPee movie review for Dog by Dan Gardner. Movie review grade: B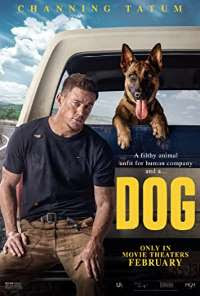 We have 3 Peetimes for Dog. Learn more.
About The Peetimes
All of the Peetimes are good and don't involve any character development.
| | |
| --- | --- |
| Rated: | PG-13) NA |
| Genres: | Comedy |
| USA release date: | 2022-02-18 |
| Movie length: | 101 minutes |
| Starring: | Channing Tatum, Q'orianka Kilcher, Aqueela Zoll |
| Director: | Reid Carolin, Channing Tatum |
| Writer(s): | Reid Carolin, Brett Rodriguez |
| Language: | English |
| Country: | United States |
Plot
Two former Army Rangers are paired against their will on the road trip of a lifetime. Army Ranger Briggs (Channing Tatum) and Lulu (a Belgian Malinois dog) buckle into a 1984 Ford Bronco and race down the Pacific Coast in hopes of making it to a fellow soldier's funeral on time. Along the way, they'll drive each other completely crazy, break a small handful of laws, narrowly evade death, and learn to let down their guards in order to have a fighting chance of finding happiness.
Don't miss your favorite movie moments because you have to pee or need a snack. Use the RunPee app (Androidor iPhone) when you go to the movies. We have Peetimes for all wide release films every week, including Napoleon, The Hunger Games: The Ballad of Songbirds and Snakes, The Marvels, and coming soon Godzilla: Minus One and many others. We have literally thousands of Peetimes—from classic movies through today's blockbusters. You can also keep up with movie news and reviews on our blog, or by following us on Twitter @RunPee. If there's a new film out there, we've got your bladder covered.
Creator and developer of the RunPee app. When something doesn't work right in the app it's pretty much his fault. 🙂
Aspiring author. Would like to finish his "Zombie Revelations" trilogy if he could break away for working on RunPee and the cottage he's building for RunPee Mom.