Read Time:
1 Minute, 6 Second
There is nothing extra during, or after, the end credits of Death on the Nile.
The credits run for approximately 7 minutes.
Get this information, and much more, for free in the RunPee app.
Try it for free (Learn more.)
[/wbcr_text_
snippet]
Read the RunPee movie review for Death on the Nile by Jill Florio. Movie review grade: C+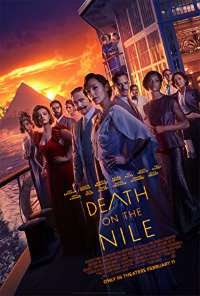 We have 3 Peetimes for Death on the Nile. Learn more.
About The Peetimes
Update: I've got 3 Peetimes up, nicely spaced. This is a long movie with tons of talking/possible clues. The main character is a huge talker, as fans of Hercule Poirot know. Try to use the first 2 Peetimes.
| | |
| --- | --- |
| Rated: | PG-13) Violence | Some Bloody Images | Sexual Material |
| Genres: | Crime,Drama,Mystery |
| USA release date: | 2022-02-11 |
| Movie length: | 127 minutes |
| Starring: | Kenneth Branagh, Gal Gadot, Tom Bateman |
| Director: | Kenneth Branagh |
| Writer(s): | Agatha Christie, Michael Green |
| Language: | English |
| Country: | United States, United Kingdom |
Plot
Belgian sleuth Hercule Poirot's vacation aboard a glamorous river steamer turns into a terrifying search for a murderer when a picture-perfect couple's idyllic honeymoon is tragically cut short. Set against an epic landscape of sweeping Egyptian desert vistas and the majestic Giza pyramids, this tale of unbridled passion and incapacitating jealousy features a cosmopolitan group of impeccably dressed travelers, and enough wicked twists and turns to leave audiences guessing until the final, shocking denouement.
Don't miss your favorite movie moments because you have to pee or need a snack. Use the RunPee app (Androidor iPhone) when you go to the movies. We have Peetimes for all wide release films every week, including Godzilla: Minus One, Napoleon, The Hunger Games: The Ballad of Songbirds and Snakes and coming soon Aquaman and the Lost Kingdom and many others. We have literally thousands of Peetimes—from classic movies through today's blockbusters. You can also keep up with movie news and reviews on our blog, or by following us on Twitter @RunPee. If there's a new film out there, we've got your bladder covered.
Creator and developer of the RunPee app. When something doesn't work right in the app it's pretty much his fault. 🙂
Aspiring author. Would like to finish his "Zombie Revelations" trilogy if he could break away for working on RunPee and the cottage he's building for RunPee Mom.