Read Time:
1 Minute, 41 Second
There are extras during the end credits of *Hotel Transylvania: Transformania*.
The credits run for approximately 10 minutes. The first three minutes continue the story and gives us a nice tie-in to the quite good animated Hotel Translyvania TV show.
The very last second showcases the kind of vulgar humor Adam Sandler is known for. It's a blink and you'll miss it scene at the very, very end. (Hmmm, *the end*. I get the joke now.)
Note: We don't normally add *Extras details to the opening studio logos*, but here 3 of the 4 logos were changed to reflect the Hotel Translyvania theme. Worth a smile or two for HT fans.
Get this information, and much more, for free in the RunPee app.
Try it for free (Learn more.)
[/wbcr_text_
snippet]
Read the RunPee movie review for Hotel Transylvania: Transformania by Jill Florio. Movie review grade: B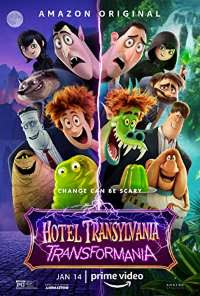 We have 3 Peetimes for Hotel Transylvania: Transformania. Learn more.
About The Peetimes
Here are 3 decent Peetimes with nothing major going on. I recommend the 3rd one after the first-hour mark.
There's much better humor sprinkled throughout the rest of the film, with better dialog and set pieces. You'll be safe with these Peetimes.
| | |
| --- | --- |
| Rated: | PG) Cartoon Nudity | Some Action | Rude Humor |
| Genres: | Adventure,Animation,Comedy |
| USA release date: | 2022-01-14 |
| Movie length: | 87 minutes |
| Starring: | Andy Samberg, Selena Gomez, Brian Hull |
| Director: | Derek Drymon, Jennifer Kluska |
| Writer(s): | Amos Vernon, Nunzio Randazzo, Genndy Tartakovsky |
| Language: | English |
| Country: | United States |
Plot
When Van Helsing's mysterious invention, the "Monsterfication Ray", goes haywire, Drac and his monster pals are all transformed into humans, and Johnny becomes a monster. In their new mismatched bodies, Drac, stripped of his powers, and an exuberant Johnny, loving life as a monster, must team up and race across the globe to find a cure before it's too late and before they drive each other crazy. With help from Mavis and the hilariously human Drac Pack, the heat is on to find a way to switch themselves back before their transformations become permanent.
Don't miss your favorite movie moments because you have to pee or need a snack. Use the RunPee app (Androidor iPhone) when you go to the movies. We have Peetimes for all wide release films every week, including Godzilla: Minus One, Napoleon, The Hunger Games: The Ballad of Songbirds and Snakes and coming soon Aquaman and the Lost Kingdom and many others. We have literally thousands of Peetimes—from classic movies through today's blockbusters. You can also keep up with movie news and reviews on our blog, or by following us on Twitter @RunPee. If there's a new film out there, we've got your bladder covered.
Creator and developer of the RunPee app. When something doesn't work right in the app it's pretty much his fault. 🙂
Aspiring author. Would like to finish his "Zombie Revelations" trilogy if he could break away for working on RunPee and the cottage he's building for RunPee Mom.