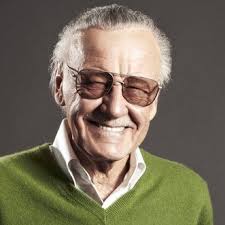 Notice how every Marvel movie, whether in an obvious bit or a tiny moment, has a unique and fun Stan Lee cameo?
Fans came up with a theory and Marvel/Lee  finally confirmed it…he actually has a ongoing, arc-based role as a Watcher Informant. His job is to keep an eye on the galaxy's superheros and report on them, while maintaining his cover as "just some old dude."
Here's his "big" moment  (actually, in a 2-parter, so you will need to view both to get it) from Guardians of the Galaxy, Volume 2, where he gives his latest update to his Watchers.
Part One:
Part Two:
Another, most amusing clue, comes in the recent Avengers 3 – Infinity War, where he crankily asks a school bus of children if they've never seen a spaceship before. (Poor quality is from leaked footage – sorry. But still cute.)
What would we like to see? How about in his next MCU film, maybe Ant-Man and The Wasp, that he actually has a larger part, and we learn a bit about who/what he is…and has an actual task to do?
The man is 95, so we think if his character is going to "come out" as it were, better sooner than later. He may not make it to Avengers 4.  That would be a real shame. And Avengers 4 will have enough characters to juggle, that it's probably not the best time to roll out Stan Lee's big moment. We say, make it now.  🙂