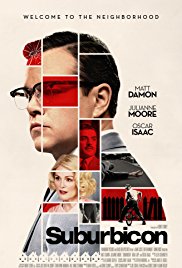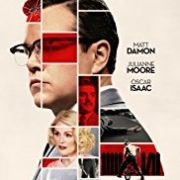 Ominous, paranoid, dark, slow, violent, pessimistic, foreboding, and disturbing. Racist, and rather evil. None of the named characters are remotely likable. If these traits sound like movie accolades to you, you'll like this film.
I didn't. It was vile. If I wasn't seeing it for work, I would have walked out. I didn't find my viewing a redeeming use of time and felt…grimy…when I walked out.
I was thinking it might be something like *Pleasantville*, another dark portrayal of a mid-century bland suburbanite fantasy. *Pleasantville* at least was a good story. *Suburbicon* is the kind of film you'll probably love or hate, depending on your tolerance for demented imagery and disturbing humor.
I will give this a C+, which is more than I want to, because director George Clooney clearly had a vision for how he wanted to tell this story, and used a very stylized tone/palette/soundtrack to accomplish this. It's quirky in a mean-spirited way, with some callbacks to the old Hitchcock films. Some of the camera work almost made me nauseous, and I am sure that was intended.
Matt Damon does his role well, and so does Moore. Even if you can't like them (or anyone else).
Movie Rating: C+