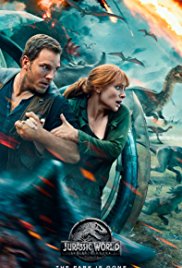 Jurassic World: Fallen Kingdom has all the tense action and one liners you would expect based off the history of the franchise. But I hope you don't expect anything more than a template of a story to support it.
The first hour of this movie plays like it was written with some basic storytelling application. I can just see the "writer" selecting: Insert > Character > Friendly but ultimately untrustworthy, or Layout > Impending Disaster > Volcano, from the menu system and then accepting all the defaults. It's that genetic… I mean generic. 🙂
At least Chris Pratt delivers his usual entertaining performance. Mainly because he's the only interesting character in the movie.
The good news is that my 5 year old niece was enthralled with the movie, particularly with Blue. I'm pretty sure she thinks Blue is the main character in the story.
I could go on and on with the many ways that JW:FK fails, but instead I made that a separate post, full of spoilers, so read the link below if you care. (Suggestion: if you finish the movie and enjoyed it then don't read my evisceration of a review below. I don't want to ruin it for you. But if you, like myself, were disappointed, it might be worth your time.)
Grade: C-
Jurassic Movies Review and Rewatch Page on RunPee.com (link to be added soon)