We added 129 movies to the database this year.  That's an average of 2.5 movies a week.
The shortest movie of the year was The Collection which was only 1 hour and 22 minutes long. The longest movie was Cloud Atlas which was 2 hours and 52 minutes long. ( Note: Titanic 3D was 3 hours and 14 minutes long but that wasn't really a new release. )
The top 10 longest movies were:
194 – Titanic 3D
172 – Cloud Atlas
169 – The Hobbit
165 – Django Unchained
164 – Dark Knight Rises
157 – Les Miserables
149 – Lincoln
143 – Skyfall
142 – The Avengers
142 – The Hunger Games
The total running time for all movies added to the database is 14,117 minutes. That's 235.28 hours of movies with an average length of 1 hour and 43 minutes.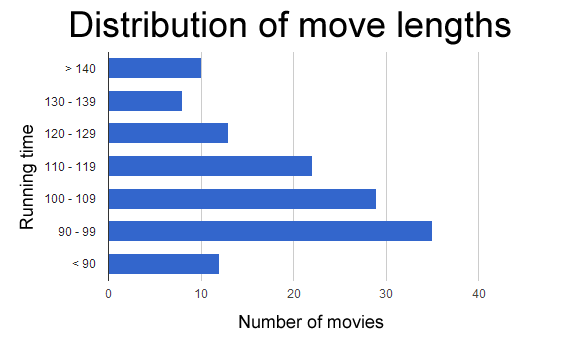 We started adding reviews to movies about mid-way through the year so not all movies got reviews. Here's some numbers on the reviews we have. You can clearly see that Mom and Sis are a little more, okay, a LOT MORE, forgiving than I am. I think somebody needs to adjust their grades a bit and use more of the spectrum.

Grades by Dan
A+    The Avengers
A     Skyfall
A     Life of Pi
A-    The Bourne Legacy
A-    Looper
A-    Argo
A-    The Hobbit
B+    Men in Black III
B+    The Amazing Spider-Man
B     Battleship
B     Prometheus
B     The Dark Knight Rises
B     Dredd 3D
B     Cloud Atlas
B     Jack Reacher
B     Les Miserables
B-    The Five-Year Engagement
B-    Hysteria
C+    Seeking a Friend for the End of the World
C     Total Recall
C     Premium Rush
C     Taken 2
C     Hitchcock
C-    Safe
D+    The Expendables 2
D+    The Man with the Iron Fists
D     The Cold Light of Day
D-    Alex Cross
F     Resident Evil: Retribution
Grades by Sis
A+     End of Watch
A+     Sinister
A+     Flight
A+     This Is 40
A+     Parental Guidance
A     Ted
A     Pitch Perfect
A     Breaking Dawn – Part 2
A-     Abraham Lincoln: Vampire Hunter
B+     That's My Boy
B+     Hit and Run
B+     Lawless
B     Chernobyl Diaries
B-     Hotel Transylvania
C+     Chasing Mavericks
C+     Playing for Keeps
C     Step Up Revolution
C     Paranormal Activity 4
D+     The Possession
D-     Red Dawn
Grades by Mom
A+     The Perks of Being a Wallflower
A+     Lincoln
A+     Cirque du Soleil: Worlds Away
A+     Django Unchained
A     The Dictator
A     Brave
A     Hope Springs
A     Frankenweenie
A     Seven Psychopaths
A     Rise of the Guardians
B+     Madagascar 3: Europe's Most Wanted
B+     Ice Age: Continental Drift
B+     The Odd Life of Timothy Green
B+     Trouble with the Curve
B+     Wreck-It Ralph
B     The Pirates! Band of Misfits
B     The Watch
B     Won't Back Down
B     Here Comes the Boom
B     Killing Them Softly
B-     Snow White and the Huntsman
B-     ParaNorman
B-     The Guilt Trip
C+     Silent Hill: Revelation 3D
C     What to Expect When You're Expecting
C-     The Words