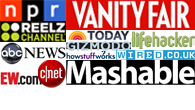 RunPee news coverage has been frankly phenomenal. I am grateful and appreciative for all the props, and would like to say thank you to everyone who called RunPee genius. And brilliant.

Check out the video review of the RunPee iPhone app by TapCritic – 4:28 minutes long. He shows you how to use the RunPee application in each step. I couldn't have done it better.

Featured
VanityFair magazine had an interview with Rashida Jones who confessed that RunPee was her favorite app!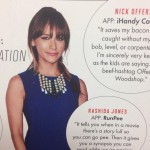 Did a 3 1/2 minute audio review of the app, again. 


Entrepreneur Magazine – When Nature Calls RunPee.com lets you, well, you know, during movies.
This article does a great job of recounting how the idea of RunPee.com evolved from a desperate need to pee to an international media sensation.
---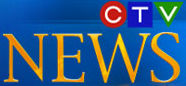 Take A Bathroom Break Like James Bond With The RunPee App
Yes, you to can be James Bond cool with the iPhone app. I love it!

TV News Spots about RunPee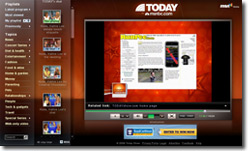 RunPee was on the Today Show! Hoda and Cathy Lee had good things to say about RunPee.com and the app on live on television, posted at the MSNBC Today Show.The clip is about 10 minutes and 50 seconds into the video, and they discuss the new Harry Potter movie and how to find your PeeTimes on the website. They are pretty cute about RunPee in this clip, and it was wonderful to see the Today Show giving us a plug. People saw this over their morning coffee, and Tweeted about it to alert me about what was going on. I was even able to catch the end of it live. How neat is that?
---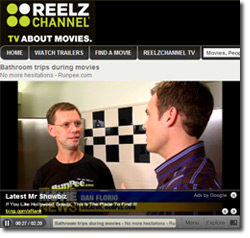 The Los Angeles ABC News ReelzChannel did an interview with me in person! Filmed in the appropriate confines of a men's room at a movie theater. The spot is 2:20 minutes long and is nicely edited with scenes from King Kong – the movie that started it all – and Star Trek. The news spot does a great job of showing off the site and pimping the soon to be available [ed note – NOW AVAILABLE] RunPee iPhone app.
---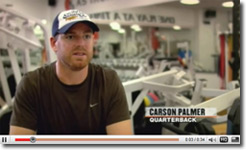 Jordan Palmer, backup quarterback of the Cincinnati Bengals and one of the partners at RockSoftware, talks about RunPee during an episode of HBOs Hard Knocks. Jordan is younger brother Carson Palmer – shown in the image to the left. There's also a short bit from the Bengals head coach Marvin Lewis.I partnered with RockSoftware to create the iPhone and Android app for RunPee.
---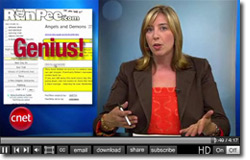 I totally come across as a tech geek on TV. Which is okay. I mean, I am one, right? Molly Woods, a CNET Editor, reviews RunPee.com on the Daily BUZZ report– it's up at the very end of a 4 minute video.I just want to point out that Molly slams Microsoft/Zune, AT&T, Apple, Martha Stewart, Nokia/OVI, and Circuit City before calling RunPee.com "The most helpful website on earth." What makes that so perfect is that I worked for the Microsoft XBox team back when we were creating the first Zune player. BooYah, take that Microsoft!
---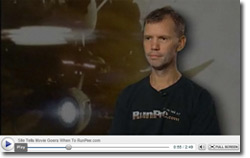 Channel WKMG in Orlando invited me down to the studios to film an interview. Check out the results. Not bad! Too bad they didn't have a makeup artist around to make me look a little better.
---
Do you want to be a millionaire? If so then it helps to know what the RunPee iPhone app is for. At least on this particular contest of Who Wants To Be A Millionaire. I let the contestant know that, if it had been me, I wouldn't have believed Tom DeLay either.

---
Fox2News.com in St. Louis did a nice 1:43 minute piece on RunPee.com. Thanks for talking about the iPhone app! It's now out!
Here is the Seattle Fox news clip that was picked up by news stations across the entire USA. Click on the photo to watch their take – it's an awesome piece! Seattle Fox News on RunPee. Thanks, guys!
Radio Podcasts about RunPee
I was invited to talk about RunPee.com on the net@night show with Amber MacArthur, and Leo Laporte. I'm on at around the 25 minute mark and talk for about 10 minutes. Of course I pimp Flex bigtime during the interview. I'm not sure if Leo knows exactly what Flex is. Maybe they'll have me back on there someday just to talk about Flex. :)I love what Leo says at the very end after I had gotten off the phone, "This is how the web was, originally."So Leo was my very first RunPee Interview and he got the total scoop.
---

NPR followed fast on his heels with me on All Things Considered. RunPee has been talked up on NPR a few times, including being made into a limerick on their Wait, Wait, Don't Tell Me show – here is the RunPee Limerick(about a minute into the radio show)NPR did a 4 minute interview with me on All Things Considered. I suggest reading the comments. Quite a dichotomy going on between the NPR listeners.
---
Reviews of the iPhone RunPee Application
Wired (UK) – We LOVE Wired! RunPee got Wired!!! My favorite line is, "Quite frankly, this is genius." I couldn't agree more
Mobile Magazine – Timed Offline Alerts with RunPee Movie App Update
Gizmodo – Top 50 must have iPhone apps. Liking the Giz love!
Lifehacker – We are on the COVER! "The creators are also working on more features that will be rolling out "every few weeks," including a friendly vibrate reminder to alert you a few minutes before a RunPee time"
Mashable – WOW! On the FRONT PAGE! They say, "It's a rare find: an iPhone app that's both useful and hilarious. RunPee, an existing website that launched its iPhone app today, checks both those boxes"
Gizmodo – "RunPee, that great website that tells you precisely the best time to run and pee during a movie so you don't miss anything good, has taken the next step and released an iPhone app for quick reference"
ABC News – "Approved by Apple's App store earlier this week, RunPee (yes, really) promises to be the small-bladdered moviegoer's best friend"
148apps.com – The RunPee is golden!
Washington DC Examiner – "There are useful websites. There are REALLY useful websites. And then there's the pinnacle. The apex. The veritable apogee of all that's good and wonderful on the interwebs – RunPee.com"
Killer Startups – "I find this a very novel and convenient app. …a fresh idea and concept if I ever saw one…an original concept that deserves to gain traction"
The Detroit News – "…the iPhone app is well-thought. Its yellow and off-white text on a black background isn't likely to get you tossed (or to get popcorn tossed at you)"
FindMySoft.com – "From the "useful web services for the moviegoer" section in our filling cabinet we have an interesting update to report about RunPee… the site has released a dedicated iPhone app, just as you have asked"
BellaOnline.com Entertainment News – "Florio received tons of inquiries from iPhone users at RunPee.com who wanted this very tool, something seemingly small that makes a big difference"
Reformed Chicks Blabbing (BeliefNet.com)- "…And it's only $0.99! How cool is that?"
The Dirty – "It has all the big movies in the theatres. You can just search for 'RunPee' at the AppStore"
Terry White's Tech Blog – Iphone app of the Week: "Sometimes I run across an app or someone shows me an app that like a train crash, I just can't look away from"
iPhone Tips and Tricks – "RunPee…has taken the next step and released an iPhone app for quick reference"
SpillaGlassofWater.com – iPhone App of the Week: "…it's a goofy, fun, but actually useful app that is pretty apt for movie-goers who have impossible bladders"
TimTech's News – "After the tens of thousands of apps that have gone through Apple's iTunes store, we didn't think we could find one that would surprise us this much"
SmartPlanet – "…an Internet sensation…pure genius" – make sure to check out this humorous interview all about Dan Florio, his nude modeling, and RunPee
AllMyFaves.com – Their tagline is, "This is what you will find on this blog, only the Creme de La Creme of the Internet"
ShakTronics – "This is definitely an idea whose time has come, and this guy deserves to make a fortune for this brilliant app"
CNET News – "it is clear that in a world of so many iPhone apps of questionable use, RunPee surely defines indispensibility"
MacNewsWorld – "For moviegoers touting extra-large sodas, intelligence on when the best time to step out for a minute or two is a valuable commodity. Yes, there's an app for it"
DigiDose.com – "…the Run Pee app – either something extremely absurd or the best thing to happen to the iPhone since the iPhone"
CNET Australia – Calls RunPee Mobile an "essential iPhone app for moviegoers" ..and they call us "cheeky," which we like a lot
InfinityTricks – "an ingenious iPhone /iPod touch app"
Technology Expert – "RunPee Mobile also also tells you which movies have extra scenes after the credits (so you don't have to hang around after

every

movie just in case)"
MacTalk.com.au – Sounds like these guys have a lot of fun hanging around and reviewing apps together. ( podcast review )
Reviews of the Android RunPee Application
Vlogs and YouTube Videos Reviewing RunPee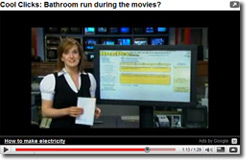 The Click Report, WSIL TV, Southern Illinois
---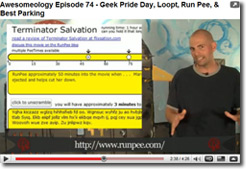 Awesomeology – "My new favorite site, RunPee.com…I had an idea for this a while back, but these guys stepped up and knocked it out of the park"
---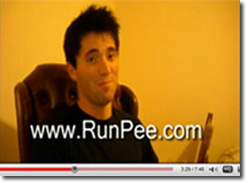 T Spot Video 2: When You Have to Go (You have to go)
T Spot has fun reviewing the disgusting, yet essential, service that RunPee provides.
---
Channel Flip – These guys had a whole lot of fun with the whole RunPee idea, plus did a great job explaining how to use the service. We love it! More, please
Tap Critic – This video about the RunPee App made the front page of Digg. The FRONT PAGE. We were thrilled. Never been there before, but we hope to see it again. [Note: you don't have to scroll the app as much as this guy does. We think he's a little scroll-crazy]
Newspapers and Magazines
News and Blog Posts about RunPee
There are way too many blog/news posts for me to list. I'll probably never even see a tenth of them. But here is a list of a few I've read:

iPhoneApps.Oreilly.com named the RunPee iPhone app a top pick! Thanks guys.
---

YummyMummyClub.ca – Amber Mac tells a nice story about how RunPee helped make watching Avatar a more enjoyable experience. It is 2 hours and 40 minutes long. Most people are going to need RunPee.com for such a long movie.
---

AntHill was nice enough to write about RunPee.com and even mention the mobile version of the site – something most people overlook. Thanks guys.
---

NYDailyNews.com has some nice works to say about RunPee: an app our female friends fawn over . . . Very cool. RunPee is fawnable! Maybe soon someone will write that women swoon over RunPee.

---


MightyBrandBlog.com has a wonderful interview with me about how we manage social media here at RunPee.com.
---

How to de-squirm a movie. Only HowStuffWorks.com could come up with that angle. I love it.

---
RunPee.com got NETTED by the Webbys: The Best User-Generated Strategic Guide To Optimal Movie Pee-Break Moments Ever.
---
RunPee Radio Interviews (with no podcasts)
I do radio interviews pretty much every day – sometimes three a day! I know I've forgotten to write most of these down, but I do appreciate every single one of these stations and their hosts for helping spread the good word about RunPee:
ABC.net.au, Australia
WTPA Harrisburg – May 28, 2009
Wisconsin's Morning News with Jagler and Mueller, Newsradio 620 WTMJ – May 28, 2009
The Carlos Montoya, 91X Morning Show – May 28, 2009
The power of 5, South Africa – May 31, 2009
Brittan – June 1, 2009
KRBZ 96.5 the Buzz Lazlo – June 1, 2009
Mike Welsh, the host of the 2CC Drive Show – June 1, 2009
Peter Anthony Holder CJAD, Canada – June 1, 2009
The Jonathon Brandmeier Radio Show – June 2, 2009
100.9 The farm, Jackson Tennessee – June 2, 2009
WMIL Morning Show, Milwaukee – June 3, 2009
The Paul & Young Ron Show, Miami/West Palm Beach – June 9, 2009
The Giant Show, WKLS Atlanta – June 11, 2009
The Brent Farris Morning Show, Santa Rosa, CA – June 11, 2009
Midday with Ricky, Rock radio 106.1, Manchester UK – August 6, 2009
am1500 KSTP Minnesota Patrick Reusse & Company, August 6, 2009
Santa Barbara 104.7

The Mikey Mike Show on San Diego's Rock 105.3

SPIN1038, Dublin, Ireland, August 11, 2009
WBWZ, Star 93.3, Poughkeepsie, NY, August 13, 2009
KROQ 106.7 Los Angeles, CA, August 13, 2009
RunPee International
We enjoy finding RunPee reviews posted in languages other than English. Here are a few we've found, with some translated by Google. By late Fall 2009 we plan to have our web redesign readable in all languages around the world for our wonderful international RunPee fans.